Paul Johnson, Vicar

Dear Friends, 
My wife Bernadette and I have been married thirty years, and are the parents of three grown sons.  I grew up outside of Chicago; have lived in Florida, North Carolina, Connecticut, and Virginia; and now, God has been kind enough to give us a home here in the Lake Travis area.
After serving with congregations in Virginia for twenty-three years, we were called to Lake Travis in December, 2013 to help Church of the Cross be born.  I am part of this ministry because I'm always excited to see what new things God has in store; and that you…whoever you are that's reading this…might receive and discover the full, rich, encouraging, and challenging relationship with God that the Lord intends for you.
I'm a runner, and occasional cyclist.  I've played bass in a band or two.  I enjoy a good book that makes me think, and movies that make me laugh.  My life verse is Luke 12:32, "Fear not, little flock, for it is your Father's good pleasure to give you the kingdom." It's a word from the scriptures that reminds us that God's promise is goodness, and mercy, and love, and generosity, and peace, and joy; and that always, God wants a relationship with us.
If you are looking for a church home, the adventure of helping a new people be created, and the excitement that comes from witnessing what God is up to next, we invite you to come along with Church of the Cross.
Blessings to you this day, and I bid you God's grace and peace.
Paul
You can connect with Paul at paul@ecclt.org.
---
Leigh Anne Diaz, Office Administrator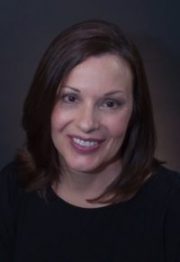 Hi there, I'm Leigh Anne Diaz and I have served as the Office Administrator at Church of the Cross since February 2017. I'm the person behind the church's communications and online presence. I have been ministering in the Spicewood area since 2000, and have raised 3 of my 4 kids here. I currently have 1 left at home and my husband Micheal and I stay busy keeping up with him!  In my spare time, I like to listen to live music, find cool new restaurants, travel and binge watch Netflix.
Contact Leigh Anne by emailing office@ecclt.org.
---
Children's Minister, Church of the Cross
Church of the Cross is seeking a part-time Children's Minister. For more information, please click here for the full position description.