All Saints' Day
November 1; observed at Church of the Cross in worship on Sunday, November 6
What is a Saint?
We commonly think of the word "saint" as a title used for persons over the centuries who have demonstrated heroic faith: Francis of Assisi is St. Francis; Margaret, Queen of Scotland, is St. Margaret; Agnes, the martyr, is St. Agnes; Martin of Tours is St. Martin.
In the New Testament the word "saint" has a different kind of meaning. In Greek, the word is "hagios." It means "holy one," or "set apart one." It's a word used by the writers of the scriptures to refer to all God's people. Everyone part of the Church, everyone gathered around Christ, is a "saint." For example, Paul addresses those reading his Letter to the Romans as "all God's beloved in Rome, who are called to be saints." (Romans 1:7) When he writes the Corinthians, he sends the letter to "the church of God that is in Corinth, to those who are sanctified in Christ Jesus, called to be saints…" (I Corinthians 1:2)
So while in our tradition we recognize and honor the great saints of the Church, on All Saints Day we give God thanks for all the saints. We thank God for all who have sought and lived the life of faithfulness, the communion of saints stretching through space and time. And in particular, we thank God for those who have helped us on our own walk with Christ.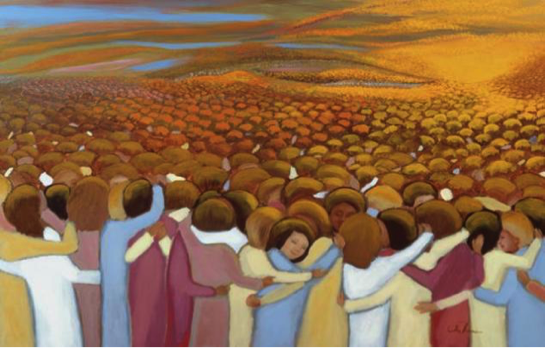 The Communion of Saints, by Ira Thomas
How we observe All Saints' Day 
The communion of saints exists in this world. It comes together every time we come together, and is in the world wherever we are. The communion of saints also gathers around the Lord's heavenly throne. And so with special intention on All Saints' Sunday, we give God thanks for the saints in our lives—those we love and who have loved us—whose earthly lives have ended this past year and have entered into the Lord's nearer presence. In thanksgiving for the life God continues to give them and promises us, and for how they have each helped us in our own journey, we will name them in worship.
If you have a family member or friend whose earthly pilgrimage has come to completion this past year and you would like them remembered by name in our litany of saints, please let Paul know. You can email him at paul@ecclt.org. It is a grace to include them in our time of prayer on All Saints' Sunday as we give God thanks and praise for all the saints who have walked with us…both those with us here in our earthly walk, and those who now experience the full presence of God at the heavenly banquet table.
Give rest, O Christ, to your servants with your saints, where sorrow and pain are no more, neither sighing, but life everlasting…Alleluia, alleluia, alleluia!