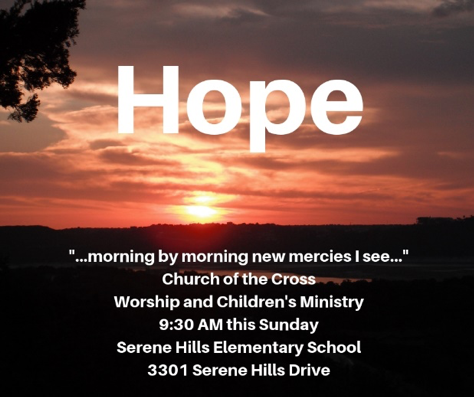 The Episcopal Church of the Cross
Loving Jesus, Serving Others
In KidsQuest this Sunday:  Gratitude and Thanksgiving!
KidsQuest Memory Verse:  "I will give thanks to the Lord with my whole heart; I will recount all of your wonderful deeds." – Psalm 9:1
After Worship:  A congregational meeting.  Please plan to stay after worship to be part of this time together.  Thanks!
Welcome to Jon Slimack, Youth Minister with Church of the Cross!
We're pleased to announce that Jon Slimack has accepted a call to serve as Youth Minister with Church of the Cross!  Jon brings to this ministry experience working with students and households, a heart for young people, and a passion to see students grow and mature in their faith.  As youth minister, he'll be ministering with students in grades six through twelve and their households.  Jon begins his service with Church of the Cross this Sunday, October 28.  We hope you'll be with us this Sunday to welcome Jon, and greet him and his wife Jordan as they worship with the ECC!
ECC Response to area flooding
Dear ECC Friends,
Many area communities have been affected by the recent rains and flooding.  Here's how we're responding at the moment.  I invite you to come along.
Prayer:  We will continue to raise up those affected and displaced by the rain and floods in our community prayers this Sunday.  We invite you also to be lifting up our neighbors in your own prayers.
Serving Others:  We are reaching out to First Baptist Church in Kingsland.  Our hope is to set up at least one day next week to help with clean-up.  As soon as we know more details, we'll let the community know via a special email communication.
Practicing Generosity:  Below is a list of items identified by those leading the clean-up efforts as being particularly helpful at this time:
Gift Cards (Home Depot; Lowes; WalMart; HEB)
Cleaning Supplies (Gloves, Bleach, Cleaners with Bleach, Laundry Soap, Utility Rags, Paper Towels, Wipes, Hand Sanitizer)
Tools (Shovels, Rakes, Wheel Barrows, Large Fans, Work Gloves, Buckets, Sorting Bins)
Garbage Bags – Commercial/Contractor
Clean-up tools: Heavy Duty Work Gloves, Box Cutters, Crowbars, Box Fans, Flat Shovels, Rakes, Sunscreen & Bug Spray, Duct Tape, Brooms, Mops, Dustpans, Hand Sanitizer, Safety Goggles, Extension Cords, Tarps, N95 Masks, Water Hoses, Buckets, Loppers, Industrial Spray Bottles, Plastic Storage Tubs, Personal Sized BBQ Pits
Other Items: Trash Cans, Wheel Barrows, Dollies, Electric Tools, Chainsaws, Blowers, Generators, Pallet Jacks, Power Washers, Push Mowers, Tools: Heavy Duty Staple Gun, Hammers, Pliers, Screwdrivers, (standard toolbox tools)
NO USED CLOTHING, HOUSEHOLD ITEMS, OR FURNITURE AT THIS TIME
This Sunday:  Please bring gift cards or any of the above items for donation.  We'll get them where they need to be early next week.  If you can help transport items out west, please be in touch with our Office Administrator, Courtney Clark, at office@ecclt.org.
We are the ECC…Loving Jesus, Serving Others.  God bless you, friends.
Paul
Calendar
Thursday nights…Bible Study at Craig O's
6:30 PM to 8:00 PM on the second floor of Craig O's Pizza and Pastaria
2501 RR 620 S. in Lakeway
Arrive at 6:30 to share a meal together; Study begins at 7:00 PM
We're studying Paul's First and Second Letter to the Thessalonians
Friday mornings…Men's Bible Study
7:30 AM to 8:30 AM
Hat Creek Burgers on 620, near the Oaks at Lakeway
Mobile Loaves and Fishes
Our next Mobile Loaves and Fishes journeys are:
Tuesday, November 7; 4:45 PM Truck Departure
Tuesday, November 21; 4:00 PM Truck Prep; 4:45 PM Truck Departure
Meet at the Spur Building of Lake Hills Church
Please let us know you'll be participating in this ministry of sharing and fellowship by being in touch with our Office Administrator, Courtney Clark, at office@ecclt.org.
November 3, 2018
Safeguarding God's Children Training
Saturday, November 3; 9:00 AM to Noon at the Lakeway Church
Safeguarding is an essential ministry by which the ECC ensures we are the safest, most whole, and most life-giving community possible.  To begin the certification processes for either Safeguarding God's Children or Safeguarding God's People, please be in touch Emily Pellegrini at childrensminister@ecclt.org.
Daily Scripture Readings
Look for daily scripture readings and weekly prayers in your in-box this Monday morning!
Sunday, November 4
The Feast of All Saints
On the Feast of All Saints' we remember with special intention the saints in our lives who have walked with us on our journey of faith.  In particular, in our litany we remember those who have entered the Lord's nearer presence this past year.
We'll include a litany of the saints during our worship on November 4.  Please let us know of persons you'd like remembered by being in touch with Courtney Clark at office@ecclt.org.
Also…Holy Baptism on November 4…
All Saints is the celebration of God's gift of the Church, the Community of Faith, stretching through space and time.  It is a beautiful time for a baptism!  If there is someone in your household to be baptized, please be in touch with Paul