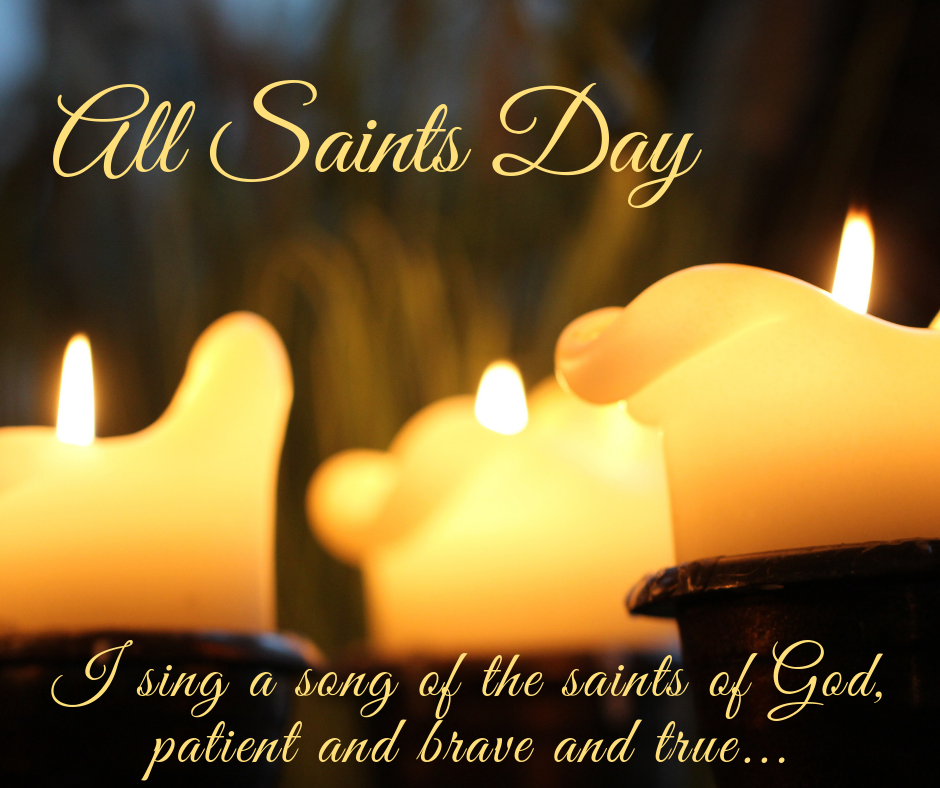 The Episcopal Church of the Cross
Loving Jesus, Serving Others
 Sunday, November 4th 2018
Serene Hills Elementary
This Sunday:  Our Celebration of the Feast of All Saints
I Sing a Song of the Saints of God, Faithful and Brave and True
In KidsQuest this Sunday:  Gratitude and Thanksgiving
KidsQuest Memory Verse: "For you were once darkness, but now you are light in the Lord."
 -Ephesians 5:8
During worship:  We'll pray over everyone celebrating birthdays and anniversaries in
After Worship:  Pastoral Care Team Meeting.
What is All Saints?  All Saints is one of the great celebrations of the Church.  All Saints Day proper is November 1.  We celebrate it the following Sunday.  All Saints is the celebration of the communion of saints stretching through space and time; a celebration of those who have gone before us and those with us now, all of whom have strengthened us for the journey and whom we have strengthened.  As well, at All Saints we celebrate with special intention the Lord's promise of life and fellowship with God and one another is an eternal gift.  It is a most joyous occasion, and we invite you to be with the community to celebrate this Sunday!
A word from Jon Slimack, Youth Minister with Church of the Cross…
Hi, everyone.  My name is Jon Slimack and I am excited to be the new Youth Minister here at the Church of the Cross.  I was raised in St. Louis, Missouri in a family and community of faith. My faith really started to grow when I was in high school and attended a mission trip. On this trip not only did my personal relationship grow but I also found a passion for working with and serving youth.
I'm a graduate of the University of Mississippi with a degree in elementary education.  Ole Miss is where I met my wife Jordan, and where I realized working with kids was my calling.  Most recently, we lived in Enid, Oklahoma where for three years I served as the Enid KLIFE Chapter Director.  About six months ago we moved back to Austin, where Jordan was raised, and are enjoying the adventure God has laid before us.
Stepping into the Youth Minister position at Church of the Cross is exciting, and we're working to create an atmosphere that works well for our youth and their friends.  Covered by prayer, this ministry is based on the four pillars of service, fun, study, and worship.  We seek a community where we enjoy being with one another and inviting our friends, and where it's safe to ask questions and grow in our walk with Jesus.  With all of us working together, God will continue to work in our students' lives and to use the youth of ECC to serve and impact our community for God's purposes.
Please keep this ministry in your prayers and come along and help!  Feel free to be in touch if you have any questions.  We're excited to see how God leads our Youth Ministry!
-Jon Slimack
Calendar 
Thursday November 8 and 15…Bible Study at Craig O's
6:30 PM to 8:00 PM on the second floor of Craig O's Pizza and Pastaria
2501 RR 620 S. in Lakeway
Arrive at 6:30 to share a meal together; Study begins at 7:00 PM
We're studying Paul's First and Second Letter to the Thessalonians
Friday mornings…Men's Bible Study
7:30 AM to 8:30 AM
Hat Creek Burgers on 620, near the Oaks at Lakeway
We're spending some time together dwelling in the parables of Jesus.
Mobile Loaves and Fishes…November 7 and 21
Our next Mobile Loaves and Fishes journeys are:
Tuesday, November 7; 4:45 PM Truck Departure
Tuesday, November 21; 4:00 PM Truck Prep; 4:45 PM Truck Departure
Meet at the Spur Building of Lake Hills Church
Please let us know you'll be participating in this ministry of sharing and fellowship by being in touch with our Office Administrator, Courtney Clark, at office@ecclt.org.
November 3, 2018
Safeguarding God's Children Training
Saturday, November 3; 9:00 AM to Noon at the Lakeway Church
Safeguarding is an essential ministry by which the ECC ensures we are the safest, most whole, and most life-giving community possible.  To begin the certification processes for either Safeguarding God's Children or Safeguarding God's People, please be in touch Emily Pellegrini at childrensminister@ecclt.org.
Daily Scripture Readings
Look for daily scripture readings and weekly prayers in your in-box this Monday morning.
Making our pledge to our common life in 2019…
As we move into the fall, we are inviting all of us to consider prayerfully how we are called to support, with our financial offering, the mission and ministry of the Episcopal Church of the Cross in 2019.  Over the next couple weeks, we are inviting each of us make a pledge.  A pledge is an estimate of our material support of our common life.
Pledge cards and additional information will be available at worship this Sunday.  As well, we can make our commitment online at https://churchofthecrosslaketravis.org/give/
We thank one another for this prayerful ministry of giving and service, another way by which we are the people of God the Lord creates and is creating.
Recent Sunday morning messages
Sunday morning messages can always be found on the Church of the Cross website under "Media," and  "Sunday Message" or here: https://churchofthecrosslaketravis.org/category/sunday-message/