The Episcopal Church of the Cross
Loving Jesus, Serving Others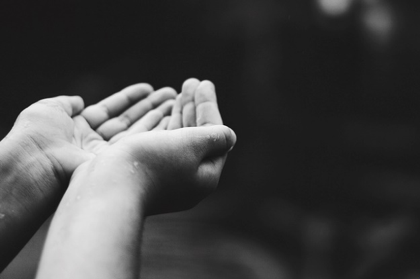 During Worship:  This Sunday is Veterans Day and the 100th anniversary of the armistice that brought an end to WWI.  We'll pray for all veterans, and we'll pray for the peace God promises to be made manifest in all the earth.  This Sunday is also International Orphan Sunday, and we will raise up in prayer all orphans and those who care for them, and pray for the day when all of God's children are cared for as the Lord intends.
In KidsQuest this Sunday:  Gratitude and Thanksgiving
KidsQuest Verse for this Sunday:  Jesus said, "Love your enemies, and pray for those who persecute you." (Matt. 5:44)
Teaching after Worship…
"Preparing to Prepare…Keeping Advent"
Advent begins December 2, and is the time during which we prepare our heart, soul, and mind to receive Christ again at Christmas. This Sunday after worship, we'll spend a few minutes considering some meaningful ways to keep the season of Advent.  We'll consider practices of worship, prayer, service, and giving; in particular, how our spending and giving during the season can be a blessing not only to those who receive what we give, but also those who create what we give.  As an example of how our giving can bless, we'll hear a word about Fazl socks and how they are a grace to those who wear them and those who make them.  In Advent, we're invited to live on purpose.  We'll explore how to do so during our time after worship this Sunday.  See you then!
And also…we'll talk about pies!
Calendar…
Sunday, November 11
Observance of 100th anniversary of the end of WWI
3:30 PM in the Performing Arts Center of Lake Travis High School
Thursday, November 15—Thursday Night Bible at Craig O's!
6:30 PM to 8:00 PM on the second floor of Craig O's Pizza and Pastaria
2501 RR 620 S. in Lakeway
Arrive at 6:30 to share a meal together; Study begins at 7:00 PM
We're studying Paul's Second Letter to the Thessalonians
Friday November 16—Friday Morning Men's Bible Study
New Time:  8:00 AM to 9:00 AM
Hat Creek Burgers on 620, near the Oaks at Lakeway
We're spending some time together dwelling in the parables of Jesus.
Serving over Thanksgiving…
Tuesday, November 20—Feast of Sharing
The ECC invites youth and their families to help us partner with HEB at their 23rd annual Feast of Sharing event.  This event helps fight hunger in the Austin area, and bring joy, happiness, and abundance to many.  We'll be helping serve over 3,000 pounds of turkey and other great Thanksgiving fixin's.  Come along and be part of our first ECC Youth service moment.
Feast of Sharing is held Tuesday, November 20th from 4:00 PM to 8:00 PM at the Palmer Events Center.  All students and their families are invited to participate; and please bring a friend!  Let us know you'll be part of this time by being in touch with Jon Slimack, our Youth Minister, at youthminister@ecclt.org.  We'll want to carpool, and especially need drivers!
More details to follow…
Tuesday, November 20—Mobile Loaves and Fishes
4:00 PM  Truck Preparation at the Spur Building of Lake Hills Church
4:45 PM  Truck departs
Please let us know you'll be participating in this ministry of sharing and fellowship by being in touch with our Office Administrator, Courtney Clark, at office@ecclt.org.
Sunday, November 25…
After Worship  Make an Advent Wreath for your household at our annual Advent-Wreath Making Party!
Christmas Eve Worship at Church of the Cross
Monday, December 24
5:00 PM at the Serene Hills Elementary School
Making our pledge to our common life in 2019…
As we move into the fall, we invite all of us to consider prayerfully how we are called to support, with our financial offering, the mission and ministry of the Episcopal Church of the Cross in 2019.  Over the next couple weeks, we are inviting each of us make a pledge.  A pledge is an estimate of our material support of our common life.
Pledge cards and additional information will be available at worship this Sunday.  As well, we can make our commitment online at https://churchofthecrosslaketravis.org/give/
We thank one another for this prayerful ministry of giving and service, another way by which we are the people of God the Lord creates, and is creating.