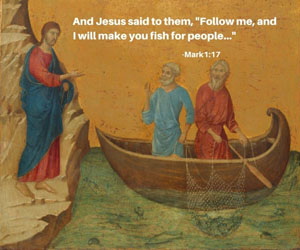 Celebrate Eucharist with the Church of the Cross this Sunday!
9:30 AM at the Serene Hills Elementary School
3301 Serene Hills Drive
Scriptures in worship:  Jonah 3:1-5, 10; Mark 1:16-20
Child-care available throughout the morning
Children's Sunday School during worship:  The story of Jesus calling Matthew found in Matthew 9:9-13.  Jesus calls Matthew, and then there's a feast!  In Sunday School, we'll have a feast with Jesus, eating foods Jesus and his friends would have enjoyed.
Conversation after Worship:  How is God calling?
This Weekend…
Saturday, January 20; 10:00 AM to 6:00 PM
Sunday, January 21; Noon to 6:00 PM
At the home of Troy & Karen Mechura
102 Schooner in Lakeway
Chair Building for The Refuge
Liliana Mechura of the ECC has made her Girl Scout Silver Project the creation of twenty-four Adirondack chairs for the Refuge, a local shelter for girls and women who have been sex-trafficked.  We're invited to come along and help build some chairs.  Under Liliana's leadership, we'll be tracing, cutting, sanding, and routing.  If you have a saw horse, jig-saw, drill press, table belt sander, hand sander, or router, bring it along!
Saturday, January 20
8:00 AM to 1:00 PM
Partners in Hope Workday
1801 Resaca Boulevard  78738
Sunday, January 21
Safeguarding God's Children Training
1:00 PM to 4:00 PM at the Lakeway Church, Room 204
Our next Safeguarding God's Children training is scheduled for Saturday, February 24 from 9:00 AM to Noon at the Lakeway Church.  To begin the certification process please be in touch with Paul Johnson at paul@ecclt.org.
Coming Up…
Sunday, January 28
9:30 AM Worship and Children's Sunday School
After Worship:  A congregational meeting
Thursday, February 1
"Reading Mark" Bible Study
7:00 PM to 8:15 PM at Craig O's Pizza and Pastaria
Come early to share supper together!
2501 RR 620 S. in Lakeway,
At the intersection of 620 and Lohman's Crossing
For much of this year we'll be reading the Gospel According to Mark.  We'll gather the evening of Thursday, February 1 at Craig O's to share a meal, and read and study Mark's Gospel together.  We'll finish with prayers.  We'll get as far as we can in Mark's Gospel during this gathering, and schedule more gatherings when we're together this evening.
Sunday, February 11
The Third Birthday Celebration of Church of the Cross
Come Celebrate!
After worship, we'll have lunch together.  ECC provides the main dish, you bring your favorite side!
Wednesday, February 14
Ash Wednesday Worship
7:30 AM at the Grove Restaurant
3001 RR 620 S. in Lakeway, across the street from the hospital
The Holy Eucharist and Ash Wednesday Liturgy, including the imposition of ashes.
5:00 PM at the Lakeway Activity Center
105 Cross Creek in Lakeway
The Holy Eucharist with music and Ash Wednesday liturgy, including the imposition of ashes.  Child-care will be available for this service.
Community Suppers During Lent
Community Suppers are the people of the ECC getting together to share a meal.  "The Son of Man came eating and drinking," Jesus said about himself.  Every time we share a meal, we're following Jesus.  So let's share a meal during Lent.  Community Suppers are done by the community…everyone brings something.  If you would like to host a Community Supper during Lent, please let Paul know at paul@ecclt.org or 512-695-2803.  You choose the date.  We'll publicize dates as they become available.
Next Services of Holy Baptism…
The next services of Holy Baptism are Sunday, February 11 (the Sunday before Lent), and Sunday, April 1 (Easter Day).  If there is someone in your household to be baptized, please contact Paul Johnson at paul@ecclt.org or 512-695-2803.
Some daily Bible reading for this week:
For much of this year we will be reading from the Gospel According to Mark in worship.  Thus, our daily readings so far have been from Mark's witness.  This week, we come to the end of Mark's Gospel.
Sunday, January 21:                                     Mark 13:14-37
Monday, January 22:                                    Mark 14:1-31
Tuesday, January 23:                                    Mark 14:32-72
Wednesday, January 24:                             Mark 15:1-20
Thursday, January 25:                                  Mark 15:21-47
Friday, January 26:                                        Mark 16:1-8
Saturday, January 27:                                  Mark 16:9-20
A word of prayer…
We thank you, O God, for the revelation of yourself in the common ways of life, and in special times and things and places.  Help us to be ever watchful for new knowledge of you, so that in the temporal we may discern that which is eternal; through Jesus Christ our Lord.  Amen.
-A Prayer for God in Everyday Life, offered by the Rev. Philip Parham